Helium Desktop
Task Management for Windows and Mac
Email Server Synchronization
Helium integrates directly with your email server. Helium will automatically convert the email into a task, merge future emails on the same topic into the task, and best of all, once you complete the task in Helium it will automatically move the email on your server into an archive folder.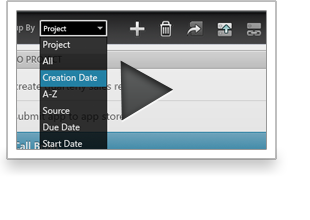 Slice and Dice Tasks
Without adding any sorting and categorization overhead, Helium enables you to quickly slice and dice all of your tasks into numerous views across singles projects or even across everything. You can see exactly what is going on with all of your projects in just a matter of seconds.
Stunning User Interface
Helium will become your go-to source for everything that you need to accomplish every day. We won't use ugly software either, so we've armed Helium with a stunning and clean user interface. It's the one piece of software that you won't mind having open all the time.
View Screenshot
Cross-Platform Desktop Application
Working in a browser all the time is a drag. We've built Helium on the Adobe AIR platform so the same installation will work on any computer, any operating system. So whether at home or work, PC or Mac you have single intuitive interface.
Bring Your Tasks with You
If you are using a different task management tool, Helium makes it possible to bring your tasks and projects with you. Helium will import tasks from Things, Toodledo, Remember the Milk, and Wunderlist.
And Tons of Other Great Features...
Offline Mode
Ever try to work offline in a browser-based application? Helium works great where ever you are, plugged into a network, on an airplane or in the field. It automatically connects when it can and works perfectly when it cannot.
Merge Tasks
End up with multiple tasks that mean the same thing? Or add an email into Helium that should be part of existing task? No problem, you can merge tasks with a single click.
Link Tasks
Helium lets you link tasks together. For example, once your client approves the final design you may need to send a milestone invoice to the client and notify your production team to start building the site. In Helium, linking tasks into groups is a single click.
Synchronization that isn't a headache
Helium lets you keep everything up to date across all of your computers and handheld devices. There's no need to manually sync, connect devices, or get everything on the same network. No drama, no nonsense. Helium's sync just works.
Getting Things Done
Getting Things Done is an incredibly powerful and effective personal organization system. Helium takes GTD methods and adapts them to working in small, fast-paced teams.
Make Anything Actionable
Actions come in all shapes and sizes. To help you organize all of them Helium lets you associate all kinds of content with a task: Email, notes, and any file type. In addition, Helium is proud to integrate with Evernote which is a fantastic system for capturing and searching all types of information.